interview with Emma Woodcock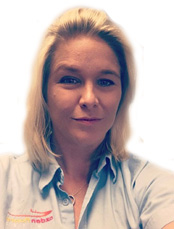 How and when did you start working for Oxden Floors?
I started work for Oxden Floors in 1996, I had just turned 18 and completed a one-year course in Business Administration. The role was advertised at the careers office and I applied, it was the first and my only professional interview I have ever attended.
My interview was with Kathy Fox (Lee's mum), we hit it off and she offered me the position a few days later.  Kathy, allowed me to complete a Modern Apprenticeship in the workplace to further the qualifications I had achieved at college.  When I started Chris Fox (Lee's dad) had just completed the transition to Oxden Floors Ltd, so for a while both companies traded side by side C J Fox t/a Oxden Floors and Oxden Floors Ltd.
If you weren't working for the successful Flooring Contractor Oxden Floors, what do you think you would be doing now?
Property, my step dad was a builder and I have been involved with some renovation projects which I thoroughly enjoyed.
What are the main changes you have seen in the flooring industry over recent years?
Time scales have shortened drastically.
The loyalty of the Gentleman's Agreement has diminished.
What are the challenges within the industry at present?
Obtaining labour, young and enthusiastic apprentices are too few and far between. Its not a trade people consider unless they know someone within the industry and there aren't many centres that offer the qualifications needed to gain access to site.
What is your greatest achievement to date?
Keeping my job for 22 years haha
My Family, I have been happily married for 13 years and have two amazing children.
Recently, I volunteered to be Club Secretary for Cliffe Woods Colts FC to avoid the closer of the club, my son has played there since he was 6 years old. I have launched a fundraiser to supply Defibrillators in all sports grounds in Cliffe & Cliffe Woods. If this is achieved ill be very proud, as this is vital lifesaving medical equipment.
Who is or has been a role model to you?
Chris Fox. He has a heart of gold, is loyal with family values, confident and wise. Chris sees the best in people and believes in them without judging their decisions. He guided me through some very difficult times and helped me grow into the person I am today. With a wicked sense of humour, he is fun and definitely unique. Loves a bottle of wine or two, I am fortunate Lee takes after his dad!
What 5 things would you put in room 101?
Bullying
Sunday drivers
Coffee
Fortnight
Golf Clash
How do you relax?
Relax ??? I have two very active children and work full time
Where is your favourite place?
On holiday with my family away from the everyday hustle and bustle.
Wine or Beer / Tea or Coffee?
White Wine / Prosecco and Redbull.
What film, book, play or album has impressed you recently?
Bohemian Rhapsody Movie, Queen is my guilty pleasure and I loved the film.
What sports, if any are you interested in?
Horse riding, but I don't get time to go much anymore and football. Both my boys are keen footballers and I am a weekend football mum.
Tell us something that might surprise those reading this!
I have a full motorbike license and fork lift license.
What is your motto in life?
Do to others as you want done to yourself. I quote sharing is caring to the children a lot too.
For more information on how we can help with your flooring project, please contact us